THE MOVIE ART OF
FRANK McCARTHY

---
BIOGRAPHY
---
FRANK McCARTHY
(1924-2002)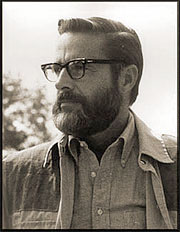 Like many illustrators of his era, young Frank McCarthy was enthralled by the adventurous, courageous exploits of Prince Valiant, Flash Gordon, and the characters N.C. Wyeth brought to life — so much so that the walls of his boyhood tree house were covered with copies he'd drawn of the beloved illustrations. This early fascination with daring, athletic heroes has carried through his dual-career life. McCarthy was not only a prolific illustrator of paperback covers, magazine stories, and major advertising for films from the 1940s through the late 1960s, he also became an outstanding fine arts Western painter from the end of the 60's to the present.

Born in 1924 in New York City, McCarthy drew pictures throughout his grade school years in Scarsdale, New York. As a teenager, he ventured into Manhattan to study during the summer at the Art Students League under George Bridgman, the author of many anatomy books, who gave him a strong appreciation for the dynamic human form. He was later a student of Reginald Marsh, a well-known painter of the Depression Era. Pratt Institute followed high school, where, McCarthy modestly claims, "I was by far not the best student — but somehow I managed to muddle through." During that time he attended many fascinating and edifying lectures at the Society of Illustrators by great artists such as John Gannam, Al Parker, and Harold Von Schmidt.

Soon after graduation, McCarthy worked as an apprentice at Illustrators Incorporated, where he wrapped packages, made deliveries, and assembled mechanicals. Once he became a staff artist he worked on many Saturday Evening Post ads for which he had to retouch his own veloxes. This task required fastidious attention to pattern, value, and contrast, which was to become a well-respected and sought after hallmark of his work.

The artist went freelance in 1946 (his first job earned him $7.50). In the early '50s he joined Fredman Studio, which would later become the Fredman Chaite Studios. His reputation began to grow as that of a talented illustrator of both paperback covers and magazine stories — especially those with Western, action-oriented, or as McCarthy puts it, "shoot 'em up bang bang" themes.

While produding for magazines, such as Collier's, Outdoor Life, Redbook, True, and publishers, including Avon, Dell, and Fawcett, McCarthy developed his trademark skills. He possessed an adept control of color values and contrasts which reproduced extremely well.

He also had an ability to conceive and execute scenes at the climax of action and drama, whether it be two cowboys with their guns drawn, or Native American warriors charging into battle. And he was not solely concerned with the action. McCarthy enhanced it by placing his figures within the grandeur of stunning American landscapes — red-rocked canyons, sage bush deserts, snow covered mountain ranges. During his busiest periods, McCarthy painted up to four book covers a month.

In the 1960s film studios took advantage of the fact that illustrators, rather than photographers, could often better dramatize a story's plot, themes, and characters in one coherent, compelling image. "There was no one better than Frank McCarthy for the action movies," remarks illustration historian Walt Reed. "Anything they couldn't photograph, they'd have me paint," recalls McCarthy. He flourished as an illustrator of advertising imagery (including posters, record cover art and the like) for major movie studios like Paramount, United Artists, Universal, and Warner Brothers. He painted many movie stars — almost always from film stills — including John Wayne in THE GREEN BERETS, Sean Connery in THUNDERBALL, Charlton Heston in THE TEN COMMANDMENTS, and James Garner in THE GREAT ESCAPE.

McCarthy remembers a particularly challenging job during this busy time: creating the recognizable likenesses of Tony Curtis and Yul Brynner as they battled each other with swords while on horseback. "It's hard to do because when two guys are fighting, their faces don't look the same as they do in everyday life. And they were in profile, not head on." Numerous versions later, the image for TARAS BULBA was completed for United Artists.

In 1968 McCarthy began to move away from commercial illustration when Charlie Dorsa, a good friend from his first studio job, proprelled him into the world of Western fine art. Dorsa introduced him to a sales person at a gallery who, upon seeing McCarthy's paperback covers, remarked, "If you can do that for me, I can sell them."

McCarthy took him up on the offer and within just a few years he stopped doing commercial work and devoted himself exclusively to painting Western art for galleries nationwide. Today he continues with this passion, conveniently based in glorious Sedona, Arizona, an area rich in history and inspiration for his Western themes.

(This biography was taken from the book "Illustrators: The Annual of American Illustration", Society of Illustrators/Hastings House, New York, 1997).


---
Articles (and book excerpts) mentioning Frank McCarthy:

August 1950 - "Introducing A New Junior Literary Guild Artist"
May 27, 1955 - "Collier's Credits" (by Jerome Beatty, Jr.)
circa 1972 - "With A Paint Brush Instead Of A Gun"
1974 - "Frank C. McCarthy" (by Frank C. McCarthy)
October 1976 - "Frank C. McCarthy" (by James K. Howard)
May 1981 - "A Visit With Frank McCarthy" (by Kay Mayer)
July 1981 - "Frank C. McCarthy" (by Piet Schreuders)
June 10, 1982 - "Cowboy Art" (by Stewart McBride)
July 1983 - "The Verde Valley - A Personal Profile" (by Frank Brothers)
July 1989 - "The 007' Files: Selling Bond" (by Stephen Rebello)
November 1989 - "Illustrators - Part 1: Movie Posters" (by Franz L. Brown)
October 17, 1990 - "McCarthy Paints For Visual Impact" (by Gail Arnold)
2001 - "The Illustrator in America, 1860-2000" (by Walt Reed)
---
More about the artist:

http://www.csmonitor.com/1982/0610/061042.html
http://www.frankmccarthy.com/frankmccarthy.html
http://www.bighorngalleries.com/mccarthy_frank1.htm
http://www.greenwichworkshop.com/mccarthy/
http://www.world-wide-art.com/bio/Frank_McCarthy.html
http://www.americanartarchives.com/mccarthy,f.htm
http://www.impawards.com/designers/frank_mccarthy.html
http://www.flickr.com/photos/leifpeng/sets/72157594213643846/
http://richardaltermann.com/gallery/pages/a525m.htm
---