GO BACK TO THE JOHN McTIERNAN'S "EATERS OF THE DEAD" PAGE
PAUL POWER : AN AUSTRALIAN STORYBOARDER IN HOLLYWOOD
(Production Illustrator on PREDATOR)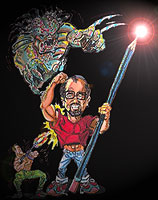 Visit Paul's homepage at:
http://www.paulpower.com
- How did you get involved in PREDATOR?
- I was called by the PREDATOR production office. Somebody suggested me (I think it was Gene Henderson, the head of the 20th Century Fox production department), as I had just worked on LA BAMBA and ROBOCOP, and was getting some good notice for my storyboard work on those films...

- How long did you work on this project?
- I worked on the film for 6 weeks, drawing Arnold and the Hunter/Predator in a rather cold art department.
- "Cold"?
- The 20th Century Fox art department was cold, because they wouldn't turn the heat on! I was there, and so were some people working there from the PROJECT X film, and they were freezing their asses off too!
- What did you do exactly on PREDATOR?
- I was the storyboard artist for the re-shoot of the film. I came up with the last act, with director John McTiernan, a very dry fellow, but a pleasant man, who gave me a tremendous amount of creative freedom to draw Arnold Schwarzenegger as Tarzan in the storyboards. In a nutshell, I created/wrote in the storyboard process the ending of PREDATOR.

- Another production illustrator, Nikita Knatz, is listed in the end credits, with you...
- He worked on the first act of the film, as did Ed Verreaux (a pretty good artist, who is now a production designer). They were there 6 months before me, maybe longer. I worked alone.
- There are lots of rumors about the troubled production of PREDATOR, like the 20th Century Fox executives not being very pleased with the first cut, and wanting it to be entirely re-cut and asking for a new ending and a new monster...
- This one sounds true enough, but I don't know all the details. You'd have to ask producer Joel Silver, he would know better than anybody... I believe he's the real visionary who made PREDATOR. Hell, look at THE MATRIX! This man is a genius! He really should hire me again...
- Anyway, what was the situation when you were brought on board?
- When I was brought on, the film was in trouble. McTiernan and I created the third act in the storyboards and my fellow Australian cinematographer Don McAlpine shot it, with a fine Aussie and American crew, headed by Mr. Beau Marks. They re-shot half the movie.

- From what elements did you work? Were there some rough footage to rely on?
- I did see a raw rough cut of the film, with just the basic sound track and dialogue. Nothing fancy, no music, no sound effects. I also worked from the Mexican jungle location photos, pasted up on 20"x30" black poster boards. The footage I saw was all the SGT FURY & THE HOWLING COMMANDOS first and second act footage, pretty much what you saw in the final film...
- Did you use the original script?
- In regards to the last act, McTiernan, Arnold and I made/created the ending in the storyboards, using some of the script... As I said, I drew Arnold as Tarzan, and McTiernan went with it. I'm a big Edgar Rice Burroughs fan... You should really read his Tarzan books! I'm still waiting to see a real Tarzan film on screen. I thought Gordon Scott's last two TARZAN films were the best.
- How would you define your work as a storyboard artist?
- Your question is a tough one. Let's say I'm there, on a film, to help the director's vision be seen by the film crew, as a guide. To "storyboard" (= to help tell the story) and be a filmaker's best friend. I work hard at my craft. Your readers should check out my website (www.paulpower.com) and see if they agree or disagree with me...
- Did McTiernan integrate some of your ideas into the film?
- I came up with a lot of story concepts on the film, with McTiernan looking over my shoulder, and if he didn't like what I drew, then he would not have shot it! I guess he did.
- I have to ask you something... McTiernan once said in an interview: "I don't storyboard shots." Yet, he debuted his career directing commercials, where storyboards are a key element...
- I can't speak about how McTiernan works on his other films, as I only worked with him once (that is on PREDATOR). Yet, I do know he has had storyboards by Dave Lowery on DIE HARD and that, on LAST ACTION HERO, he had artists working for him. I know what I drew for him is on the screen, and you all saw the end results!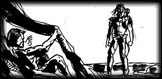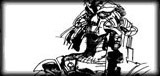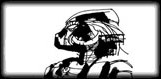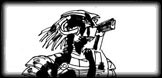 - From the boards shown on your site, I assumed the look of the Predator was the final one, when you worked on the project. But did you see the look of the first Predator?
- I never was allowed to see the "pre-mantis" looking first cut out Predator... The Hunter/Predator you all saw was designed by Steve Wang, who did an outstanding work. I have never met the man, but I dig his work! Very cleaver stuff!
- So there was no scene involving the Predator in the rough cut you saw?
- The rough cut was just the commando/jungle stuff and the infra-red point of view of the Hunter/Predator, without ever seeing the creature, because that footage was not there, it was cut out. Hence, I have no idea what that may have looked like.
- Approximately, how long did that rough cut run?
- I think I saw a one hour rough cut. But, basically, you saw what I had to work from in the final film. I was impressed with the actors, Governor of Minnesota Jessie "The Body" Ventura and Bill Duke, who I recently did some storyboard work for (on "Revelations", a short pilot for TV). The thought I came away from seeing this footage was: "Hey, this is a Jack Kirby and Stan Lee's Marvel war comic book SGT. FURY & THE HOWLING COMMANDOS in Honduras type movie!"
- Didn't William Stout work on some preliminary creature designs?
- I know Bill Stout fairly well. We used to be good mates. I like his cartoons. But I never saw any of his work on or in PREDATOR at all! Remember, I came in on what was pretty much a brand new film. I didn't find out who worked on the film before me till I was well into 3 weeks working on it! I was not allowed to see their work and, yes, I did try... Anyway, I'm sure there were lots of creature design concepts for the Hunter/Predator, only I never saw them.
- You keep refering to the Predator as the "Hunter"... Did McTiernan use that word during the storyboard sessions?
- Yes. He would some times refer to the creature as the "Hunter".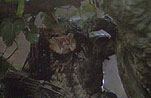 - In concrete terms, how did you work with McTiernan on the storyboards? How did your meetings go?
- Well, we would toss ideas around and, if he got stuck for a story twist, I would ask him to let me have a go at solving the problem in and on the storyboards. Tarzan and Chuck Jones' Warner Bros. gags came to mind.
- That is very interesting, because McTiernan often says he is a big fan of Chuck Jones' cartoons, especially the "Road Runner"... Was this his idea to find inspiration from the Chuck Jones gags?
- No, no. I put the Chuck Jones elements into PREDATOR, this did not come from the director. I never told him about the Road Runner gag for Arnold's setting a trap for the Predator at the end of the film. This came about because McTiernan was stuck for what to do for that sequence and he asked me if I had any ideas. I was watching TV and saw a Chuck Jones cartoon and I said "Voila! There's the killing of the Predator!". Nobody knew it was a Chuck Jones type until I told them, and then everyone went "Oh, yeah? Right on!".
- Do you think storyboards can solve script problems?
- Yes! But it depends on the storyboard artist's relationship with the filmakers in question. Some scripts can't be saved! Ever! Not all storyboard artists know their craft either...
- Then, could we say that your work on PREDATOR was not only an illustrating one, but also a "scripting" one?
- We did wrote the bulk of the ending in the storyboards. Boy! I wish I was paid as a writer on PREDATOR... I'd have a nice fat bank account right now! But don't get me wrong, I loved working on it!

- You mentioned Tarzan as a source of inspiration... This is funny, because several French film critics spoke about Tarzan and Burne Hogarth's drawings in their PREDATOR reviews...
- For me, PREDATOR was a TARZAN film. I was thinking of Tarzan when I drew the PREDATOR storyboards and that's what you saw, Arnold as Tarzan. That's why I had Arnold swing on a vine to a tree and had him use bow and arrow.
- Lots of French critics also do think the third act of PREDATOR is the best one...
- Well, the French are smart to like this third act! (laughter)
- I noticed that you worked on GEORGE OF THE JUNGLE... Another "TARZAN-oriented" film!
- Yep, I worked on it, but uncredited, with the first (and sadly fired) director, Alan Cohn. The gags we drew are still in the movie. The wrestling lion sequence was Alan's favorite gag!
- Did you know that Dark Horse Comics edited "Tarzan vs. Predator (at the Earth's core)" in 1996 (story by Walt Simonson & art by Lee Weeks)?
- I'm not familiar with this comic book. But I did saw one issue and it looked nice... Actually, PREDATOR gave me the chance to put a lot of comic book dynamics in its storytelling. You see, I'm an adventure comic strip artist and used to draw a sci-fi western comic strip with my friend John Snowden, in Sydney, Australia, for Rupert Murdoch's "Sunday Mirror", called "PROFESSOR OM & EAST MEETS WEST", in the seventies. I also worked with the great cartoonist Alex Toth. Jack Kirby, Frank Bellamy and Neal Adams are a big influence on my work. So, comics storytelling is in my storyboard work too.




- I have seen one of your artwork for "EAST MEETS WEST" on your website, and it reminded me this Terence Young western with Charles Bronson, Alain Delon and Toshiro Mifune...
- Yes, RED SUN was part of the inspiration for the comic strip, as was "The 77 Samurai", a history book about the samurai coming to America.
- What about unused ideas? There must have been some... Did you work on scenes of PREDATOR which were not filmed?
- I drew a fight sequence that was never shot. Everything else I drew is in the film. Everything!
- I have heard about some deleted scenes of PREDATOR, including one with the Predator's spaceship...
- Sorry, I don't know, other than what I was shown, what scenes were left on the cutting room floor. Yet, I'll let you in on a secret... While working on PREDATOR during the day, at night I would work with director Julian Temple on EARTH GIRLS ARE EASY, and I had drawn/repeated the same opening spaceship shot for both movies! I was tired and, later, I would worry that both films would come out at the same time and I'd be found out! So, fans, go see both opening scenes and have a laugh!
- So you did work on other sequences than the third act ones! Did you work on other scenes, besides the opening and the last 20 minutes? Maybe the scene where the Predator is using his first aid kit, for example, or the invisible effects...
- Yes, I drew the medical surgeon in the tree scene and put that invisible SPIDERMAN shot in there. Remember, the Predator was redesigned by Steve Wang, so I worked on scenes through out the film and drew all those Predator scenes. For the surgery sequence, I was asked to design props but, after looking at a medical "tools" catalog, I saw these real and strange tools that, outside of an operation room, you and I would never see, so I suggested to McTiernan that he should use them.


- What was the idea behind the opening shot?
- The opening shot in PREDATOR is a space ship in a fire ball. I drew that as a fireball.
- While on the Predator's spaceship subject, there is this big nuclear explosion at the end, but it seems a little bit too much, to have been created by some small device on the Predator's wrist... This surely more looks like some spaceship explosion!
- The atomic bomb part, at the end of PREDATOR, was me having a joke with John. I didn't expect to see the mushroom cloud from the blast. An explosion, sure, but not that! And it worked! McTiernan knows what he likes.
- When I asked about the script, you said "McTiernan, Arnold and I". What was Schwarzenegger's input, exactly?
- Arnold's key suggestion was to nix the fight sequence I had created. It was a rough and tumble jiu-jitsu boxing scene between Dutch and the Predator. Arnold said: "I can't do that! I'm a man, and he is a monster! He would kick my ass!" So, since I've done some boxing, I drew, from the boxer's point of view, the Predator punching the daylights out of Arnold...
- Did other people than Schwarzenegger participate in the storyboarding sessions?
- No one else had any input in the storyboard process, except McTiernan. I'm sure Joel Silver may have, but he never discussed it with me! By the way, I never, to this day, ever met the film's production designer.

- Were you satisfied creatively with the final result (the movie)?
- Yes, I liked PREDATOR. I loved working on it, and I think Arnold is great. I've been a fan of Schwarzenegger since 1968! We work out in my family, and body building actors, like Gordon Scott and the late great Steve Reeves, are what the silver screen superheroes should look like to me. So I was proud to have made a contribution to PREDATOR, a real hard nosed adventure Tarzan comic book non campy movie. Whew! That's a mouthfull! It was also good for me as a storyboard artist. I got a few jobs from it...
- Anything you would want to add?
- The only thing I would like to add is this: while I'll always draw for a living (the latest films I worked on that are coming out are EIGHT LEGGED FREAKS [ex-ARAC ATTACKS], UNDERCOVER BROTHER and SCORCHER), I'm now making short live action films with Marvel Comics SPIDERMAN artist, John Romita Jr. We hope to be the directors of other adventure films. We just made I JUST DRAW. I hope you'll get to see it one day. It's not PREDATOR, but it is fun! I love my job. Making movies, what's not to love? AND Mr. Joel Silver, YOU should hire me AGAIN!
© 2002 - The John McTiernan Central