Before Arnold there were Conan comics...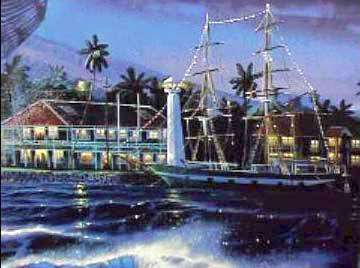 In 1971 I was sitting at the Pioneer Inn in Lahaina, Maui. It was morning, and I was waiting for some friends to pull into harbor to sail on their catamaran. It was a violent time on the island because some Hawaiians hated haoles (new arrivals), especially if you had long hair.

Sitting at another table was a long-haired tourist who had struck up a conversation with me after I warned him under my breath not to agitate the two hulking Hawaiians that were looking at him sternly. He mentioned that I reminded him of a comic book character named Conan.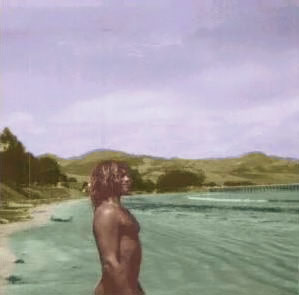 I never heard the name. He said that he was leaving the island, but when he came back he would drop off some Conan comic books. I never saw him again, but a stack of Conan comics were in front of my Lahaina apartment door a few months later.

At last I saw a long-haired hero who protected women and who was the best example of what defined a man for me. At the age of 22, I had yet to see an example of a body in action the way the comics depicted.

I looked at the drawings and realized that someday a Hollywood Conan would appear and I would have to know him and be his friend.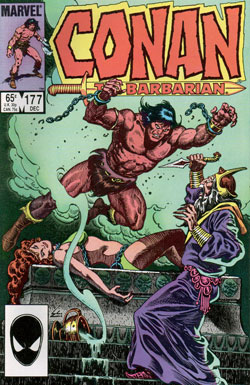 I read the Conan comics and books over and over because I was living in the jungles of Maui, facing the possibilities of violence and I needed a "guide." I remember one day while I was alone in the plush jungle praying fervently to Jesus to teach me to survive as a surfer. I drove my van to another beach with a luau with about a hundred Hawaiians having fun. As a long-haired surfer, I definitely wasn't going near them.

At another part of the beach was a spiritual Sunday feast, set up by the Krishna devotees on Maui. I went body surfing, and as I walked out of the water a sexy nose-ringed Krishna lady came up to me with a huge plate of food. Free food for a surfer, offered to me by a princess-looking lady seemed very Conanesque! So, I got into a conversation with her.

I asked why I would have such an affinity for the Conan name and character. She said that Conan could be my Soul Name.
I had never heard of a Soul Name before and I wasn't the Hollywood "Conan", so when I joined their spiritual society as a Krishna devotee they called me Bhakti-Conan. "Bhakti" is Sanskrit and can be translated as "science of." So I was called "The Science Of Conan."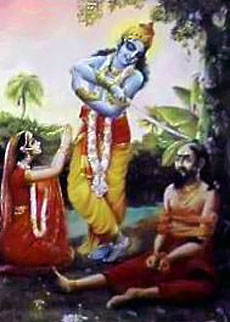 Krishna living 5000 years ago was a long-haired warrior who loved women. Krishna's battles reminded me of "Conan," so I joined the Krishna society to escape from the boring normal world and to be with that close approximation to women who dressed similarly to the Conan time-period.

I would live at the temples in Maui, Los Angeles and Laguna Beach, California. I read my Conan books and comics and practiced my surfing and swordfighting. I never cut my hair nor wore their temple outfits in public. The attire for devotees were too frilly, and I was a barbarian in training. I wore my surf wear.

I moved to Aspen, Colorado in 1975 to live in the Rocky Mountains, because Conan was a hillman, and my experience on steep inclines was lacking except for the wave faces I would surf. I dropped my given first name of "Jack" and introduced myself as Conan. My passport and license since 1975 has my name as Jack Conan Michael Angelo. "Jack" is a past life to me. I'm not called by that name, because most people don't know it, and the name represents the naive part of me who hadn't ever seen vicious violence before. I never had a real fight. Nobody has ever challenged me, even when I'd be surrounded by Hawaiians in Maui or Mexicans in L.A. But I needed the Conan comic book input to figure out what to do in case something did break out.

Seven months prior to discovering Aspen, I studied bellydancing, because I could dance with a sword and be with women who looked and dressed like characters from the comics. I felt like the comic book character who had infiltrated into a "Secret Temple Of Love."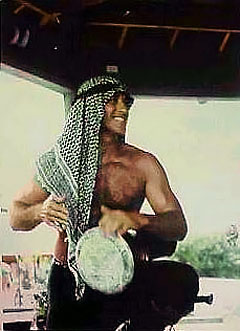 My first job in Aspen in 1975 had me walking to work with my sword to join a bellydancing band and a beautiful female dancer, to entertain the international ski crowd that would eat at the Sayat Nova, an Armenian restaurant at the Hotel Jerome. I would make money undulating before the females in the audience, and I became infamous in Aspen.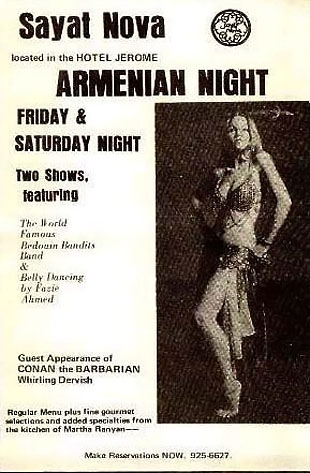 In 1976 an actor friend passing through Aspen relayed that a man named Arnold Schwarzenegger was hired to play "Conan". My girlfriend at the time worked at the library and brought home the book Arnold, Education Of A Bodybuilder. About a half-year later Arnold came to town. I found out and knocked on the door of the hotel room where he was staying. He opened the door, and I saw how healthy and glowing his facial skin was.

I said, "My name is Conan, and I'm the only person who has checked out your book from the Aspen library."

He shook my hand and introduced me to his girlfriend, Susan Moray, who brought him to Aspen. (Six years later, Susan and I would meet again, and she would help me get established as a massage therapist right next door to World Gym in Santa Monica.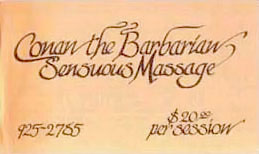 At the time, Arnold was beginning work on THE TERMINATOR. Arnold asked the owner of World Gym, Joe Gold, to give me free membership.)

So I finally met the Hollywood Conan for five minutes! That year, I planned a trip to leave Aspen with my girlfriend, Angela Burton, to find him.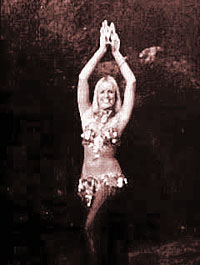 The odyssey of getting to California required that I work two months in Las Vegas as a bellydancer, and also as the skatepark manager of the largest skateboard park in the U.S. at the time. I got to California, and it took a few months to secure work and a place to live.

Finally, I was ready to find Arnold. I lived twenty miles from Venice and I walked the beach with a skateboard prototype as a gift. I walked into World Gym and I asked if Arnold was around. The manager said, "Arnold! He just left for Europe!"

I was flabbergasted! The months of working to get here, the long walks in the hot sun, the feeling that this guy is so popular, what would he care anyway; and now he was not even in the country!

I wrote a long note to Arnold and left my skateboard with the manager. I never got a response. While I was in California, a friend called from Aspen and said that he would like me to help him get Arnold to Aspen for a bodybuilding seminar. In 1977 my friend arranged the seminar at an Aspen theater. Arnold charged $1,000.00 for an hour seminar. To promote the event, I alone walked the town of Aspen, saying, "Arnold is coming to town!" and handing out memeographed sheets saying that we were charging $20.00 for close rows and $10.00 for back rows. People would respond, "Arnold who?" Barely anybody in Aspen knew Arnold at the time. We didn't even make the $1,000.00 back at the door.
But my friendship with Arnold began!

Arnold arrived in Aspen for the seminar and was waiting at the base of Highlands, one of Aspen's four ski mountains. He and I went to the Aspen Athletic Club (where I was in charge of the massage department) to pick up weights and benches to bring to the theater. When Arnold was onstage he asked me to come up to help demonstrate, but I yelled back from the audience that I wanted to see him in action. I observed how he looked like a giant boy playing with his toys. I vowed to myself to get to know my weights like that.

After the seminar, Arnold and I got in a taxi and went to dinner. Sitting in the taxi, I couldn't help but notice how monstrous his thighs were. This world-class ski town has it's share of huge athletic thighs, but Arnold's legs seemed bigger. I definitely realized that a heavy squat program was better than just living in the mountains to develop size!

At dinner, I ordered exactly what he ordered (which was my practice over the next seven years when we would dine together; he would always eat "lean," even at 215 pounds). He caught me staring at his arm during dinner and he asked, "What are you doing?" I said that I didn't ever see arms that hang as relaxed as his. It's obvious that he did his homework for his body.

Each year afterwards, up to 1980, Arnold would call me up when he got into town, so we could ski together, have dinner, and go out on the town. (I have watched Arnold over the years begin skiing like a bent-over gorilla who would fall and crash into two skiiers on his way to becoming an accomplished skier.)

One memorable time, Arnold and I went to one of the local hotspots, which was loud and full of music and dancing. A line of my friends gathered around me so that I could introduce Arnold. Through the noise and the groupies, Arnold would lean over and give me pointers on sword strokes to practice for the upcoming movie, CONAN THE BARBARIAN, slated for 1980-81 filming.

I had no guarantee of being in the film, even though I knew Arnold. I still had to connect with the preproduction producer, Ed Pressman. I sent a letter introducing myself and saying that I was a massage therapist. I offered Ed Pressman a free round-trip ticket to Aspen for a weekend to experience my abilities as a massage therapist to see if this skill would be appropriate for a barbarian epic. The production sent me back a letter saying that they were impressed by my offer, but they were taking only seven Americans.

As a massage therapist, I'm one of the best. In fact, I got so well known in Aspen that actor George Hamilton heard about me and became a good client. After my year-long efforts to be part of the movie fizzled, I asked George, "How can I break into a film?"

"What film," he responded.

"CONAN THE BARBARIAN," I said.

"Oh, my close friend John Milius wrote the script and is directing," he said, "I gave him his first $5,000.00 to write EVEL KNIEVEL for me, and and now he doesn't even return my calls when I offer him $500,000.00. I'll give him a call."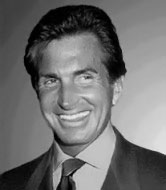 On the phone to Milius, George said he had a gentleman with him whom he recommended to be part of the film. George handed me the phone to speak to Milius. John said he didn't know if it would be possible, since only seven Americans like James Earl Jones and the top stunt men in Hollywood would go.

When I hung up, George counseled me. He said that he would talk to John further. George handed me a favorite book of Milius about Samurai life. George also promised to get a script in my hands.
 
Two months later I saw George again.

"I couldn't get you plane fare," he said, "but if you show up in Madrid, Spain, they'll at least take a look at you."

George went on to explain that once I got on the production site, a stuntman might get hurt and they'd use me. (That's exactly what happened; about a month into production I was asked to fall down the well, to replace the shot the stuntman couldn't complete.) To try to get hired, I borrowed $1,500.00 for round-trip airfare and three days worth of food and lodging.

I arrived in Madrid from Aspen and got to the large hotel that housed the cast and crew. There were no rooms to rent. The "orgy scene" in the movie was being completed that day, so I spent the morning introducing myself to Buzz Feitshans, co-producer with Raffaella De Laurentis. He asked me for a sample massage. He didn't give me any indication of being hired, so I went to the lobby to wait for Arnold to return from filming that afternoon.

As I sat in the lobby waiting, Arnold walked in and the first thing he did when he saw me was glance at his watch and say, "We workout in an hour."

I had no official word from the production office, but I was already going to workout with Arnold. In a little room were weights and Arnold and Sandahl Bergman and me. Sandahl asked Arnold who I was and he said, "He's from Aspen, and he's a massage therapist." She came right over to me and said she needed help, because her back was so sore from climbing the tower. I had her lay on a weight bench and fixed her back.

After the workout, Arnold and I went up to his room before we went to dinner. In his room, I went right to the aluminum broadsword. It was a great practice weapon. Arnold talked about women in the cast, and said, "Grab a Coke from the 'fridge, unless it's against your religion."

For the next two days I heard nothing from the production. They were so busy and I seemed so insignificant that my stay was getting scary. I was running out of money. I was sitting in the hotel restaurant when I heard three ladies speaking English at the table next to me. Because all I heard was Spanish, to hear anyone speak English surprised me. In my desperate situation, I stood up and introduced myself. I said I was a massage therapist; could they use me? I was trying to earn money to stay longer.

They looked at me and one said, "Are you the Conan that Sandahl is raving about? You've been the talk of the set for the last two days! I'm John Milius' wife. He needs a massage badly. Could you work on him today?"

I had no idea that Sandahl had said to the producer to hire me. The other ladies were the set designer's wife, Robin, and Gerry Lopez's girlfriend.

That was the turning point for me. Had I not hustled myself, I would have left for the U.S.

I went up to John's apartment and gave him a massage. He said that because of the long hours and cold conditions for the past month, he was beat up and sick. He said I couldn't have arrived at a better time.

The next day, a taxi with the three ladies picked me up and drove us all to a military base. I was escorted past the airplane hangar, where the interior of the barbarian king's castle and the tower sets were built. It was lunchtime, and I sat next to Milius and Arnold. I was treated lavishly with steak and wine, while Arnold talked about how he wanted to write a book on conquering, and how his first million was the hardest to make.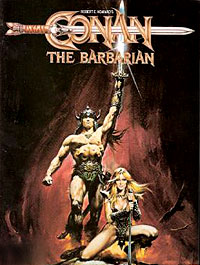 MORE TO COME...